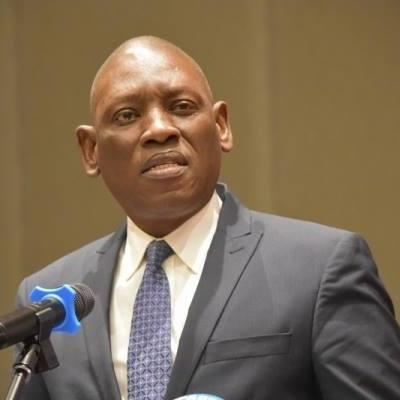 It is a great pleasure for me to be back in Accra, after just about a month that we had an extremely successful Africa review of the Addis Ababa Declaration on Population and Development beyond 2014.
From the out-set, I would like to thank the organisers of this Summit, my Friends, the young people, for offering me this excellent opportunity to speak to you on some issues that a lot of us, if not all present here are very passionate about.
Africa's population is predominantly made up of young people. In West and Central Africa, more than 64% of the population is under the age of 24. This population is projected to remain constant in the next 50 years due to demographic transition that the WCA region is faced with. Young people are the most precious resource of the region. Africa can only thrive if you – the young people - thrive.
However, the potential of the youth will only be realized when we invest in their education, health, skills and empowerment, as well as provide them with a conducive environment wherein they can make informed choices. These investments together are the pre-conditions sine qua non for Africa harness its demographic dividend.
Young people in West and Central Africa face enormous challenges. Six of the ten countries with the highest child marriage prevalence in the world are in this region: Burkina Faso, Central African Republic, Chad, Guinea, Mali and Niger, with Niger having the highest prevalence rate in the world at 77 percent. This region also has the highest percentage (28%) of women between ages 20 and 24 who reported a birth before age 18 as well as the largest percentage (6%) of reported births before age 15.[1].
Young people from Sub-Sahara continue to face unwanted pregnancies and harmful practices.
Adolescent birth rate is the highest in WCA region, with 115 birth for 1,000 adolescents against 44 at global level. This fact is due to high unmet needs in family planning among young girls. In fact, more than 50% of unmet need for spacing births are expressed by young girls aged less than 19 years in WCAR.

FGM prevalence among girls aged 15-19 years is 24%, while this practice is on the point to be abolished in many regions in the world.

Young people are also highly involved in clandestine migration and terrorism in the region. In the region, NTA profiles shows that still around 30 years, young people are still economically dependent (their consumption is higher than their production) This is due to lack of jobs or very poor remuneration. This breeds risky migration and attracts many more to conflicts in the region namely the one conducted by Boko haram in Lake Chad Basin.
We must overcome these challenges so that girls and young women can reach their full potential.
Within the framework of the 2009-2018 African Youth Decade, and the African Youth Chart, the adoption of an action plan was made to achieve specific objectives for the youth. In 2016, the United Nations adopted the 2030 Agenda for Sustainable Development, including taking into consideration the youth inclusion and active participation toward the achievement of the SDG.  These goals present a blueprint for the ways we can collectively take action to improve the lives of millions of people all around the world.  To achieve these goals, a fundamental shift is needed.
In West and Central Africa, the large youth cohort represents a historic opportunity to introduce progress and adopt innovative solutions to ignite this change. Essential to this is the realization of young people's rights to participate in the political, economic and social life of their communities and countries, and to freely make informed choices regarding their bodies, sexuality and reproduction without discrimination, violence or coercion.
To empower young people means giving them the tools to become even more influential, productive actors in their societies. In order to achieve this, countries need to end all forms of discrimination faced by young people, particularly adolescent girls, such as forced and child marriage and sexual violence, which can result in unintended pregnancies, unsafe abortions and HIV infections, and risk derailing their future.
Central to these efforts must be the promotion of access to education, health services, including sexual and reproductive health and family planning. These combined interventions are critical in order to break the intergenerational cycle of poverty, strengthen the resilience of populations in the face of all challenges and seize the opportunities of the new economy.
Young people such as yourselves are already driving innovations in science and technology, making conscious choices that are drastically influencing patterns of consumption and production, and mobilizing to make companies, organizations and governments more socially and environmentally responsible.
Over the past years, UNFPA has been strongly advocating for what has now become evident among key stakeholders in Africa - that the demographic dividend framework offers a strategic basis for focusing and prioritizing investments in people in general and youth in particular, in order to achieve sustainable development. UNFPA supported the Africa Union, along with the African Development Bank, NEPAD and others, to develop the AU Roadmap to the Demographic Dividend that was endorsed at the AU Summit in January 2017, and where the youth are at the center.
UNFPA advocates and engages in high-level policy dialogue with key players on the demographic dividend, and have systematically continued to call for Putting Young People First in this process.
By providing young people access and opportunities for the right education that provides them the knowledge and skills to protect their health and to prepare them adequately for the labour market, the barriers to unemployment and under-employment will minimize, and will empower youth become positive agents of change.
We play a critical role in supporting governments and other partners to prioritize, strategize and invest in policies and programmes that will improve the lives of young people and result in the harnessing of the demographic dividend.
Together with the World Bank and 6 Sahel governments (Burkina Faso, Chad, Cote d'Ivoire, Mali, Mauritanian and Niger), our Sahel Women's Empowerment and Demographic Dividend (SWEDD) regional initiative works on addressing such issues of gender inequality and supporting women's demands for reproductive, maternal, neonatal and child and nutrition services as well as education and training.
In regards to issues impacting young people due to the conflicts and instability of the Lake Chad Basin (Nigeria, Chad, Niger, Cameroon), UNFPA has been also been working with governments in these countries with a multi-sectoral approach to support the development of initiatives for young people, with the aim to reduce the risk of radicalization and ensure that young people can become contributors to the development of their countries.
Working closely with youth networks and youth leaders as partners in this work is paramount. In that vein, UNFPA has deepened its' partnership with youth networks and youth leaders in West and Central Africa. In 2017, with the support of the Ford Foundation, UNFPA convened a Youth Leadership Conference on the Demographic Dividend which brought together many of you here in the room as youth network representatives and leaders from across West and Central Africa to identify actions to support the AU Road Map to the Demographic Dividend.
In 2018, UNFPA led the development of a Status Report on Adolescents and Youth that provides the latest data, evidence and analysis on the key education, health, employment, and gender concerns impacting Adolescents and Youth in the region. The Report is to guide policy makers, programme implementers, young people and other key stakeholders to use the latest evidence to develop policies and programmes that respond to the needs of young people and in partnership with young people. This is in line with the work we want to achieve collectively to ensure that we are on the path to achieving the SDGs in Africa.
Putting youth at the center of our engagements and our development priorities is critical as youth networks throughout the continent mobilize their youth constituencies and ensure their full and active participation in the work being done to harness the demographic dividend. UNFPA is proud to partner with young people to promote their participation and leadership, enabling them to overcome barriers, spearhead innovations and unleash their full potential.
UNFPA calls on governments, development partners and other influencers to enact policies that promote young people's development and human rights, and to measure progress across the Sustainable Development Goals that relate to adolescents and youth. Young people must be engaged as partners in achieving these goals.
An adolescent girl who is 10 years old today will be an adult of 24 in 2030, the target year for achieving the Sustainable Development Goals. We must ensure that her path through adolescence and youth leads to a brighter future for herself, her community and the world – that is paved with rights upheld, opportunities realized and promises fulfilled.
I am delighted to speaking alongside young people here today as UNFPA puts Young People First and urges our partners to do the same to ensure that we achieve the Africa – and world – that we want. Will continue to accompany those I call my friends, to ensure their voices are heard everywhere, and they are sitting everywhere as participants to the achievements of the SD collective Goals.
---
[1] Motherhood in Childhood: Facing the Challenge of Adolescent Pregnancy. State of the World's Population 2013.