You are here
Regional Director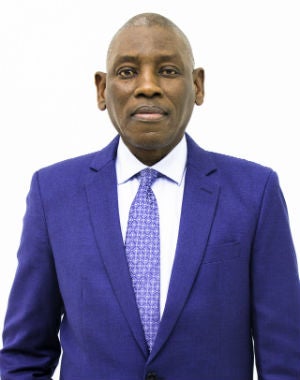 Mabingue Ngom
Mabingue Ngom was appointed the Regional Director for UNFPA West and Central Africa Regional Office (WCARO) based in Dakar, Senegal, on January 2015. In exercising his duties, he provides leadership and strategic direction for the 23 countries covered by the Regional Office. He is a staunch advocate of youth and women's empowerment and a champion of the Demographic 
Mr Ngom joined UNFPA in 2008 as Director of Program Division based at UNFPA headquarters in New York. As a strategic leader, he led the development of the 2014-2017 Strategic Plan, which introduced critical organizational reforms to increase the effectiveness and efficiency of the United Nations Population Fund.
Mr Ngom was influential in the evolution of UNFPA towards an organization based on evidence and results-oriented, and the strengthening of the programming to allow each of the 129 country offices to deliver concrete results. Mr Ngom promotes a culture of innovation and excellence. He takes appropriate initiatives to make an impact within the UNFPA, and through the United Nations system, and to commit on a range of issues concerning the development and humanitarian aid with a wide range of stakeholders.
For seven years, Mr Ngom was the Emergency Director within UNFPA and an active member of the Inter-Agency Standing Committee (IASC), of the administration and UNFPA Representative in the High-Level Committee on Programmes Council of Chief Executives (CEB) for coordination.
From 2003 to 2008, Mabingue worked for the Global Fund to Fight against HIV/AIDS, Tuberculosis and Malaria (GFATM) as the portfolio manager for Africa, then as Team Leader for West and Centrale Africa in Geneva (Switzerland). In the late 1990s, he also held the position of Program Advisor at the "International Planned Parenthood Federation" in Nairobi (Kenya). 
Previously, Mr Ngom was involved in the development of his country, where he held various management positions, including Advisor of the Minister of Economy and Finance in Senegal.
He holds a Masters in Development and Economic Analysis (Dakar, 1983), and in Public Policy (Washington, DC.) 1998). Mabingue also holds a Graduate Diploma in Economic Development and Planning and (Dakar, 1985). He received academic awards from the University of Chicago, the American University (Washington, DC), and the Prize "Foreign and Commonwealth Award" from the United Kingdom. Mr Ngom also holds a certification in Change Management from the University of Boulder (Colorado)
He is currently a member of the "American Cancer Society" and belongs to the "Hubert Humphrey Fellowship" and to "Chevening Scholarship alumni associations."