Dakar, Senegal – 1 April 2022: Senegal hosted the launch of the 2022 edition of the United Nations Population Fund (UNFPA) State of World Population (SWOP) report. The event was held at the Black Civilizations Museums in Dakar. For the very first time a "program" country is selected to host this event, under the patronage of President Macky Sall of Senegal (represented by the Minister of Economy, Planning and Cooperation, Mr. Amadou Hott) and Dr. Natalia Kanem, United Nations Under-Secretary-General and UNFPA Executive Director.
The symbolic choice of launching the event in Senegal is in line with the Country's commitments to the International Conference on Population and Development (ICPD) Program of Action and the agenda of gender equality and sexual and reproductive health and rights. President Macky Sall, who is currently also the Chairperson of the African Union, is committed to delivering on the ICPD promise.
"Unintended pregnancies come at a cost – to individual women and girls, to their families and to societies." Launching the report, UNFPA Executive Director, Dr. Natalia Kanem noted the devastating consequences that come with unintended pregnancies, and reminded that each and every one has a role to play to stop this crisis.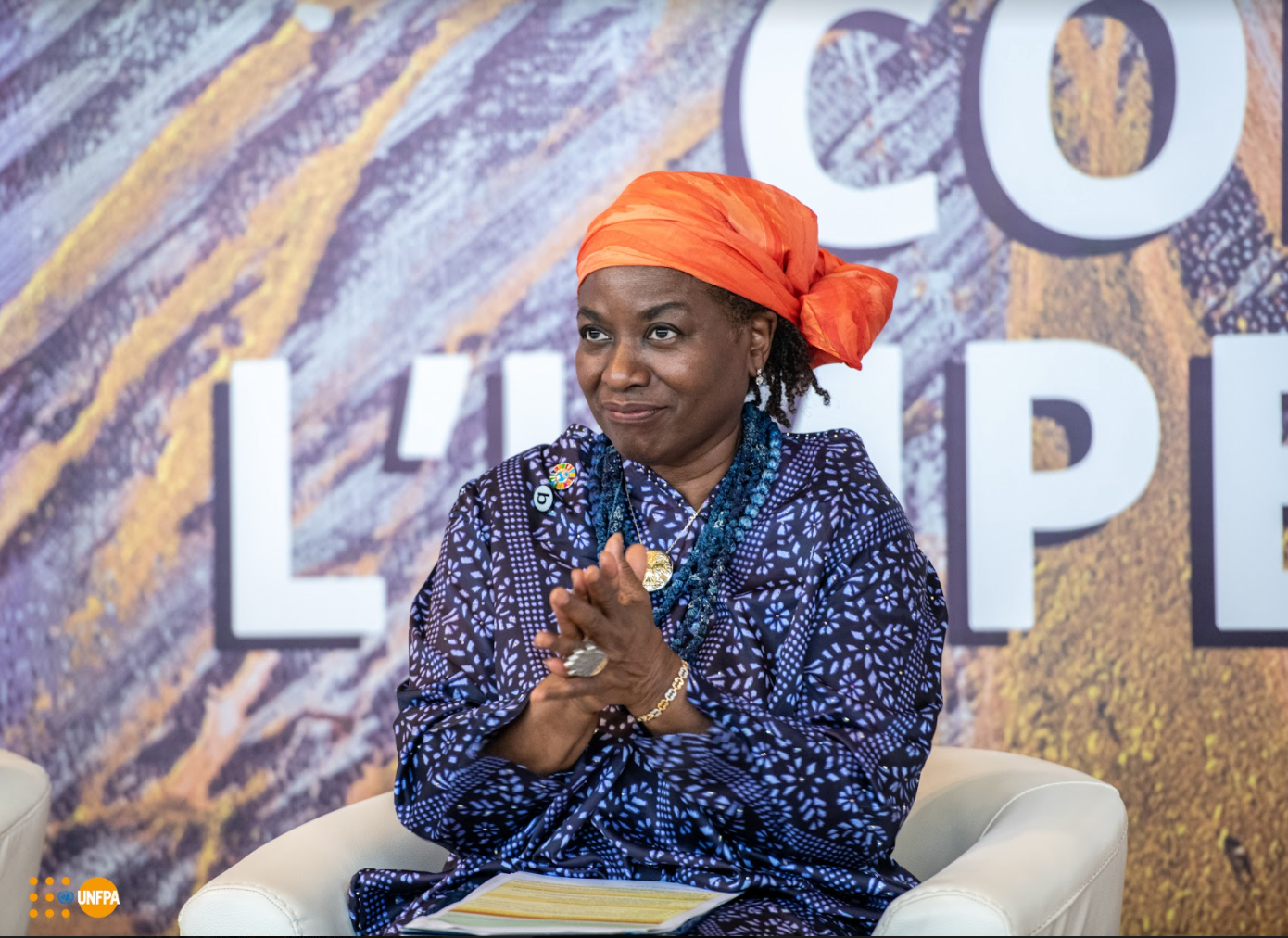 This year's theme is "Seeing the Unseen: The case for action in the neglected crisis of unintended pregnancy" and underscores the urgency of taking the necessary measures to prevent unintended pregnancies. It is alarming to note that worldwide, every year, nearly half of all pregnancies, or 121 million, are not the result of a deliberate choice. 60% of these unintended pregnancies end in abortion, of which approximately 45% occur in unsuitable conditions, increasing the risk of maternal death. In addition, 5-13% of maternal deaths occur as a result of abortion; this has a major impact on the ability of countries to achieve the Sustainable Development Goals. The report also presents solutions that are already within reach, while emphasizing the need for a holistic and integrated approach to the issue.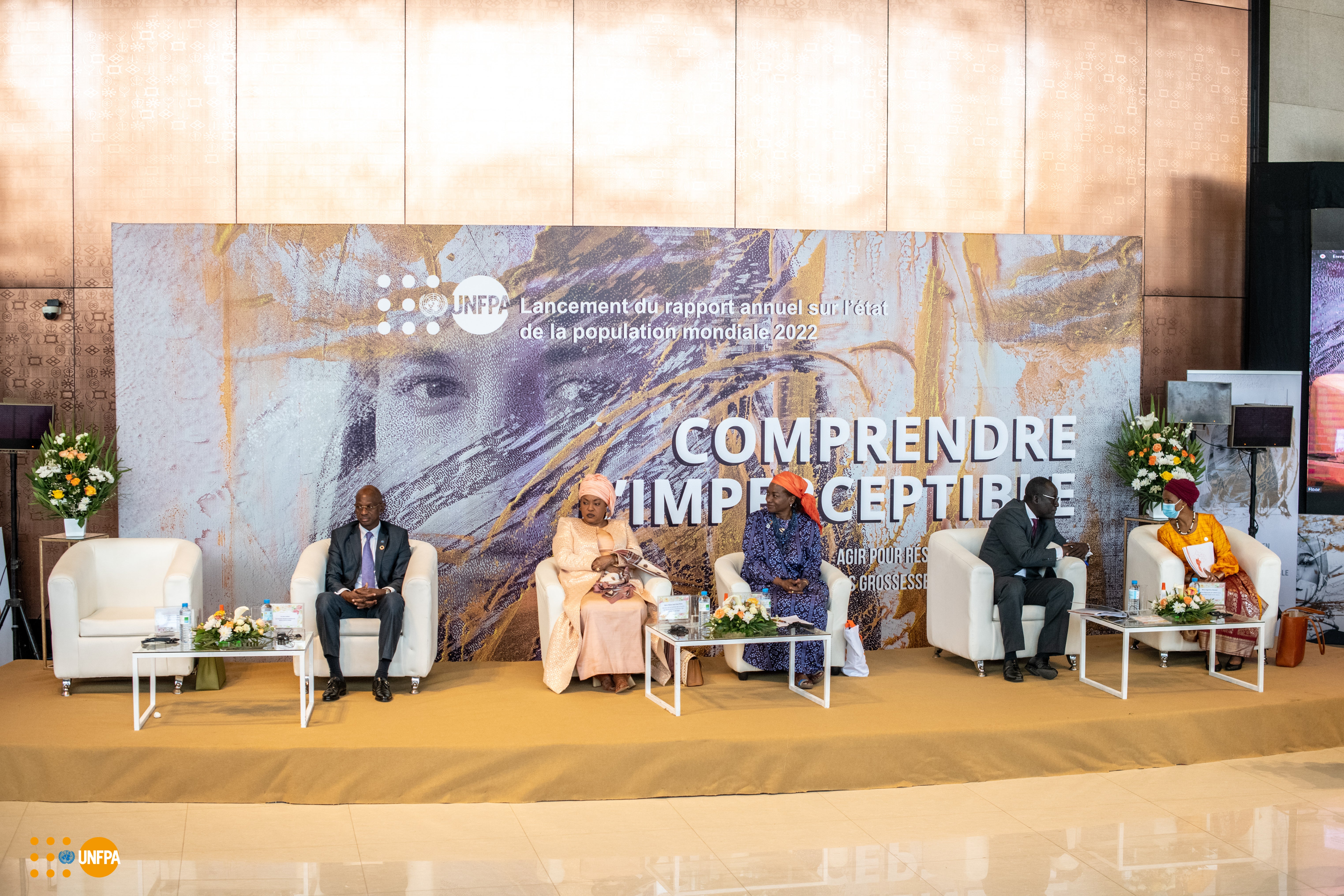 This "call to action" to address the invisible crisis of unintended pregnancies was attended by the highest state authorities.
In her welcome address, Ms. Ndèye Saly Diop Dieng, Minister of Women, Family, Gender and Children's Protection recalled the law on the criminalization of rape, and highlighted the Government's efforts to support and empower girls and women including the possibility for young girls to return to school after their pregnancies.
The young and brilliant Guinean activist Kadiatou Kanouté launched a call to have more impact: "involve young girls who are the main ones concerned in decision making, introduce sex education in schools, facilitate access to information in all countries and enhancing project implementation monitoring."
Mohamed Cherif, African Development Bank Country Manager, noted that the consequences of unintended pregnancies are very perceptible and at multiple levels:  and have high costs for Countries and their communities. He strongly encourages a synergy of partnerships between governments, religious organizations and civil society to curb this scourge.
Speaking on behalf of Muslim clerics, Abdadayim Abdoulaye OUSMAN, Secretary-General of the Supreme Council for Islamic Affairs (CSAI) in Chad, said that no religion is opposed to birth spacing. In Chad, "Religious officials participate in conciliation within the couple to increase men's adherence to family planning".
Senegal's Minister of Economy, Planning and Cooperation, Mr. Amadou Hott, emphasized that the magnitude of unintended pregnancies dictates the urgency of acting in a pragmatic, holistic and inclusive approach for quality education, legal and health services for the empowerment of women.
With full commitment, Dr. Natalia Kanem delivered a message that reminded the audience that to sustainably overcome the global crisis of unintended pregnancies we must eliminate gender inequalities and all forms of discrimination against women and girls, and transforming the social and economic structures that sustain them.
About UNFPA
UNFPA is the United Nations sexual and reproductive health agency. Our mission is to deliver a world where every pregnancy is wanted, every childbirth is safe and every young person's potential is fulfilled.  To learn more, visit: https://www.unfpa.org/about-us
Contacts:
Jacob Enoh Eben, | Regional Communications Advisor | UNFPA WCARO | Phone: +221 77 450 4780;  +221 77 3586662 |  Email: eben@unfpa.org
Aissata Sall | Communication for Development Office |UNFPA Sénégal |Phone: +221 77 751 042; | E-mail: asall@unfpa.org