Dakar, Senegal - 2 October 2017: The United Religions Initiative (URI) for Africa has awarded the prestigious Africa Peace Award The United Nations Population Fund (UNFPA). UNFPA West and Central Africa Regional Director, Mabingue Ngom, received the award presented by the Regional Director of URI for Africa and Representative of URI at the African Union and UN Office for Africa and Global Envoy of URI, H.E. Mussie Hailu. The ceremony took place in Dakar, Senegal on 2 October 2017.
"URI-Africa presents its Africa Peace Award to UNFPA in appreciation of the outstanding work of the organization in promoting the right of every woman, man and child to enjoy a life of health, dignity and equal opportunity." Ambassador Mussie Hailu highlighted during the award ceremony.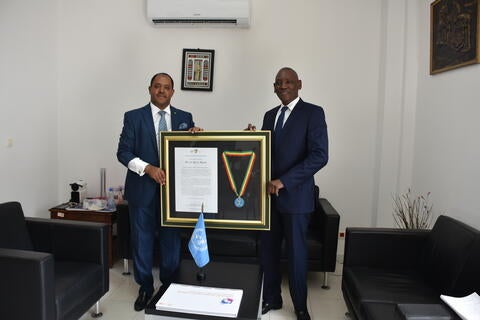 He noted that the award was also in acknowledgment of the effort of UNFPA for involving religious and traditional leaders, Faith-Based and interfaith Organizations in Africa, and providing them with a platform to engage on population related issues.  UNFPA systematically engage these stakeholders in addressing issues like Female Genital Mutilation (FGM), Child Marriage and People Living with HIV.
UNFPA chaired the United Nations Inter-Agency Task Force for Engaging Faith Based Organizations (FBOs) for Sustainable Development. FBOs have been indispensable and powerful agents of change and partners to increase access to Reproductive Health and Maternal Health Services as the key pillar for achieving Demographic Dividend and to support the accelerating of the demographic transition towards peace, stability and prosperity.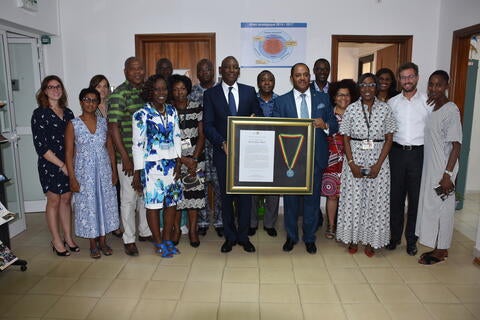 Accepting the award on behalf of UNFPA, Mr. Mabingue Ngom, Regional Director of UNFPA West and Central Africa Regional Office said: "I am grateful to URI-Africa for the recognition of the work of UNFPA by presenting its Prestigious Africa Peace Award to UNFPA. UNFPA highly appreciates the work of URI and considers URI-Africa as its valuable partner to pave the way for the Demographic Dividend and to scaling up interventions against child marriage, gender-based violence and harmful practice Female Genital Mutilation and reproductive health and family planning".
Previous awardees of the Africa Peace Award include the African Union; United Nations Economic Commission for Africa; United Nations Educational, Scientific and Cultural Organisation); Inter-Governmental Authority for Development; and United Nations Environment Programme), amongst others. Individual recipients include: Former President Goodluck Jonathan of Nigeria; Archbishop Desmond Tutu, Former President Girma Wolde-Giorgis of Ethiopia; President Ellen Johnson Sirleaf of Liberia; President Ismaïl Omar Guelleh of Djibouti; H.E. Sir James Richard Mancham, Founding President of the Republic of Seychelles; and H.E. Dr. Ameenah Gurib-Fakim, The President of Mauritius.
URI-Africa established in 2007 the Africa Peace Award to recognize the committed, effective leadership that is currently being exercised to bring sustainable peace, development, good health, environmental protection, democracy, good leadership, reconciliation and inter-religious and inter-cultural harmony and peaceful co-existence in the continent.
The URI is an international interfaith organization with consultative status with the United Nations Economic and Social Council working to promote enduring daily inter-faith cooperation to end religiously motivated violence and to create cultures of peace, healing and justice for the Earth and all living beings. URI has over 857 member organizations in 102 countries.
Media Contact:
Jacob Enoh Eben, Email: eben@unfpa.org, Cell. +221338598282; & Celine Adotevi, adotevi@unfpa.org, UNFPA West and Central Africa Regional Office, Dakar, Senegal, Tel. +221 338598282; +221 338598222