Health improvement project in Tessaoua: "One family, one measure of millet"
In Tessaouaa, it is not uncommon to see women, men or whole families coming to town to ask for help to get a son, daughter or sick parent to the Maradi or Zinder Regional Hospital. Transport costs an average of 21,500 CFA francs (around 33 euros), but not all families can afford this. Therefore, in order to provide for the transport of patients, the canton chief of Tessaoua, Maiguizo Kané Mahaman Mansour, has proposed that a millet collection system be set up, which through the sale of the millet will cover the cost of emergency transport for families in need. In this commune of about 375,000 inhabitants, the Sultan managed to collect 26 tonnes of millet in two months solely on the basis of the trust that the people have in their traditional leaders.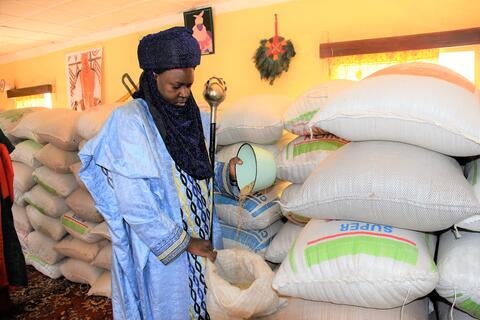 The role of the chiefs dates back to well before colonization, and this explains the trust and strong ties we have with the people, which is why we are called the fathers of the nation. We are responsible for helping people to solve their everyday problems, especially in rural areas, especially women and children. Women in rural areas are subject to hardships related to precariousness, poverty and destitution, which causes high rates of domestic violence, school dropout, divorce, illiteracy and clandestine prostitution.
That is why we are convinced that empowering women will help to stop the scourges and ills that are besetting them. They often ask for my help when seeking empowerment. Sometimes they ask for wells for their off-season crops or vegetable gardens, to help them grow food, generate additional household income and ensure a balanced diet. At present, progress has been made, but there is still some way to go. Awareness raising is not enough, concrete action must be taken to improve people's daily lives.
"We must help women and young people out of this precarious situation. If we do not, we will not get off the starting line. We need real, tangible projects to enable women and girls to generate their own livelihoods."