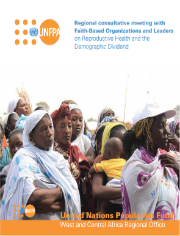 At a time when the international community is poised and hopeful about the transition from the millennium development goals to achieving the sustainable development goals by 2030, Africa must address a fundamental question on how to bring significant and sustainable improvements to people's lives with the current prospects for population growth.
If we are to achieve this, faith-based organizations and leaders must play a crucial role. They are key role models and opinion leaders. They influence the way their communities
engage with and decide on issues. They also influence how well these communities accept health services.
Full review